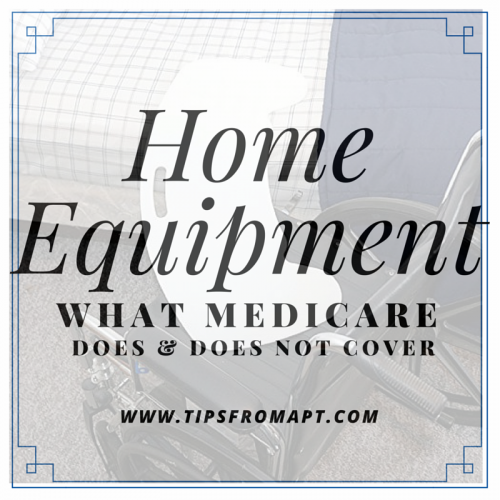 Did you know Medicare is the GOLDEN STANDARD for defining diseases/disorders and stipulating what treatments & equipment are covered (paid) under the definition of those diseases/disorders?  In other words, there are certain criteria for someone to be diagnosed as DIABETIC under both Medicare and Private Insurance policies. If he/she meets the criteria of a defined diabetic, then he/she is eligible to receive certain supplies, treatments, and care.  If Medicare defines a disease, illness or condition, then Private insurance usually follows the direction of MEDICARE making MEDICARE the GOLDEN STANDARD!
IF MEDICARE pays, PRIVATE INSURANCE generally will pay as well!!
So, you are bringing your loved one home, need durable medical equipment (DME), but do not know what is covered? Coverage and reimbursement are dependent upon several factors including the required onsite physician evaluation/prescription, physician and supplier participation and/or enrollment in Medicare, and the presence of the Medicare Competitive Bidding Program in your area.  Once you get the basic criteria met, you need to be able to answer,"Yes," to these questions?
Is it durable?
Will it be used in the home?
Is it required to meet a medical need?
Is it only useful and needed for someone with a medical – based problem/illness?
Will it last a minimum of 3 years before needing to be replaced?
Okay, now you have an idea of the criteria for which MEDICARE and PRIVATE INSURANCE use for covering and providing home medical equipment, and here is a general list provided by Medicare.gov to help you even further:
I don't know if you noticed but shower chairs, tub transfer benches, raised toilet seats, adjustable (full-electric/luxury) based beds , pulse oximeter, ramps, automobile lifts, and grab bars were not listed above.  According to Medicare/Private Insurance, these items are considered self-help (not medically necessary), comfort, and convenience-based versus medically necessary!  In other words, it appears that what MEDICARE/PRIVATE INSURANCE supplies in the home stop at the bathroom door!
Personally, I believe there are many medically necessary activities best completed in the bathroom but the challenge(s) involved are too great to contend with so patients and caregivers either resort to bed/sponge bathing or opt for more expensive resolutions (construction, special medical equipment installation/use).  Most of the problem with bathing, showering, and toileting in an existing bathroom is ACCESSIBILITY (How to manage a narrow doorway).
The best wheelchair for accessing a narrow doorway is a transport wheelchair (the wheels are small and in alignment); however, make sure the armrests remove and/or swing out of the way such as the one pictured on the left below.  If you do not want to have 2 types of wheelchairs–a manual/standard wheelchair with large outer wheels AND a transport wheelchair with inline wheels–there are wheelchairs that convert from a manual wheelchair into a transport chair (pictured on the right)!
Once in the bathroom, transfers can be managed with fairly inexpensive equipment–especially if you have or can get an Elevated Toilet Seat, Tub Transfer Bench, and/or Shower Chair.  If standing is not an option for you or your loved one, I highly recommend using a sliding board to transfer from the wheelchair to and from the Elevated Toilet Seat, Tub Transfer Bench, or Shower Chair.
If you are not familiar with the use, safety, and types of sliding boards, I recommend visiting my post on Medical Transfer Boards (aka Sliding Boards).
For certain patients and bathroom setups, I have created a simple solution with inexpensive products available at your local home improvement store.  Click HERE to view my solution for accessing narrow bathrooms.  Please keep in mind, my patients that use this alternative accessibility method are able to walk with either a walker, cane, or rollator.
Where can you find or get assistance for medical equipment not provided by Medicare?
I encourage my caregivers to search Craigslist, research "aging in your area" or Community-Based Assistance Programs, visit local Goodwill stores, or seek advice from family and friends–especially therapists, nurses, engineers/carpenters and adult protective services.
Please, remember if you purchase any medical equipment on the internet, reimbursement by Medicare/Private Insurance is NOT available.  Attempt to get reimbursement FIRST, but if you can't because you want or need an item on the NOT COVERED list, I recommend looking to the internet or investigating your social circles (church, community groups, Department of Aging, family and friends) for a solution to your medical equipment needs.
If you have a specific question or need medical equipment advice, please feel free to contact me.
I am honored to have you visit my site, and I will continue to provide tips/tricks in an effort to make daily care of a loved one easier and safer.
Sincerely,
Shawna PT, MPT
Amazon aStore