Diabetic Chocolate Chip Cookie Recipes are becoming more and more popular.  Here is a Kid Approved, Healthy, and Easy Diabetic Chocolate Chip Cookie Recipe.
Delicious, Soft and Kid Approved these cookies have No Flour, Very Little Butter, and one of the Easiest Homemade Chocolate Chip Cookies I have ever made.
I have been asked more than once for my personal healthy alternative Sugar-Free Chocolate Chip Cookie recipe so here it is for one and all!  As a Physical Therapist, I endeavor to promote health and often times I have to "think outside the box" for alternative solutions to a problem.
I felt very hypocritical when I was 75 pounds overweight and my career was based on promoting healthy, safe, and independent lifestyles.  The ANSWER:  lose weight without giving up one of my sweet addictions.  Now I can eat these cookies, share these cookies with diabetic patients, and remain compliant with my goal to promote optimal health, safety and independence.
So enjoy and feel free to share or leave me a comment after you try a batch!
P.S. if the cookies turn out flat, you need to decrease the amount of butter!
Ingredients: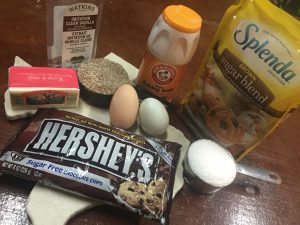 3 1/4 – TBSP Stick Butter
1/3 – Cup Splenda Brown Sugar
1/3 – Cup Splenda Sugar
1 – Tsp Baking Soda
2  – Tsp – Vanilla Extract (I highly recommend Watkins Double Strength Clear Vanilla)
2 – Eggs
2 – Heaping cups of Almond Meal (I buy this in bulk at Sprouts)
1 – 8 oz bag Hershey's Sugar-Free Chocolate Chips
Instructions:
Preheat oven to 350ºF.  Beat butter, brown sugar, sugar, and vanilla extract in a mixer until creamy. Add the eggs and baking soda and mix well.  Add almond meal at low speed.  Stir in chocolate chips (I have a Kitchen Aide mixer and I use "Speed 2" to mix the dough and "Stir" to add the chocolate chips).
Bake 8-9 minutes or until edges are slightly browned.  Allow the cookies to cool slightly and enjoy the best moist, soft and deliciously healthy treat!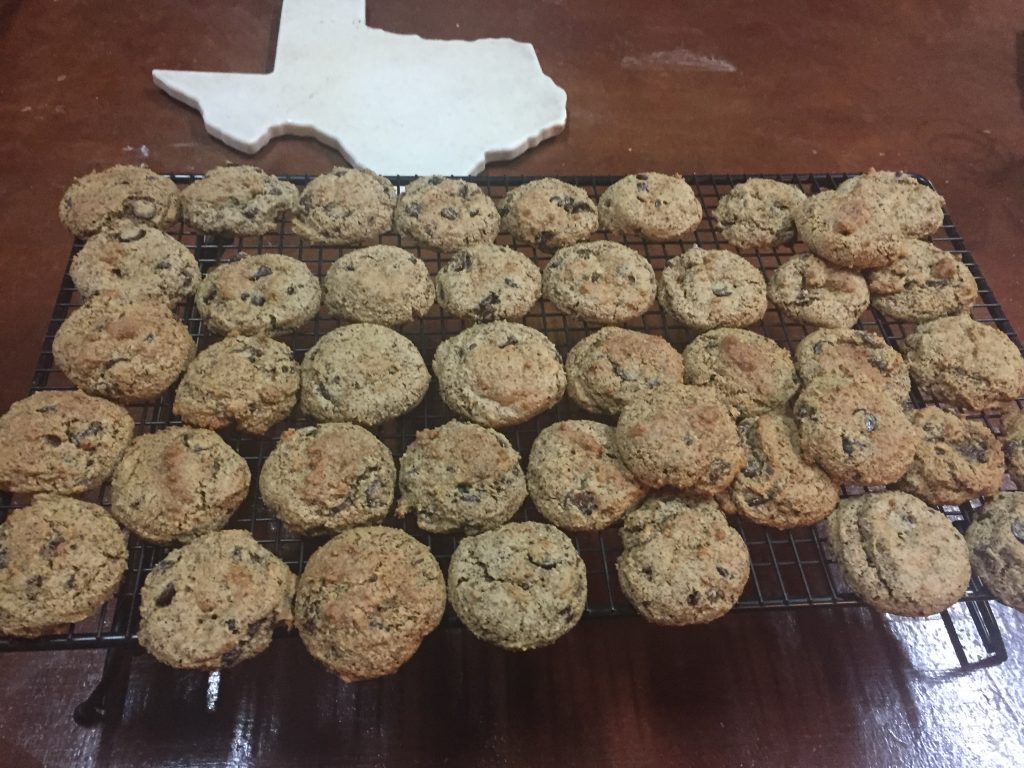 I successfully completed the Trim HCG diet and lost 75 pounds.  I created this cookie recipe to be Carbohydrate Free and Sugar-Free as a personal sweet treat.  To this day, my entire family prefers these Healthy Alternative Chocolate Chip Cookies to homemade all purpose flour-based cookies.  Oh and these cookies do not get hard!
Amazon aStore