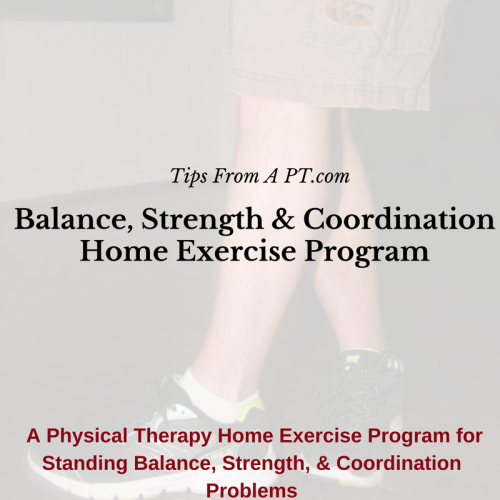 Welcome,
This page was designed to show how I, a Home Health Physical Therapist, address balance problems, leg muscle weakness, and coordination deficits.  I recommend watching the video (it's a little over 11 minutes) and learning the reasons I use the methods in the video to challenge my patient's balance, strength, and coordination required for safe standing and walking in the home as well as going up/down ramps, steps or curbs.
INTRODUCTION
---
Maintaining strength, decreasing falls and improving independence are probably the most common reasons for Home Health Physical Therapy.  Following a hospitalization, my patients seem to be overwhelmed and face numerous obstacles from general weakness of the legs, difficulty breathing (sometimes from pneumonia), bone-cold chilliness, appetite changes, and swelling to depression, poor endurance, and healing surgical incisions.
This is a video of an actual Physical Therapy home therapy treatment.  Please, DO NOT attempt this or any new home exercise program without seeking the advice/supervision of a medical professional first!
Most patients are discharged home from either a hospital where they have had no therapy, or an inpatient rehabilitation facility  (Skilled Nursing & Rehab aka SNF) where they had varying degrees of therapy.  Most of a patient's therapy at this stage is focused on promoting initial healing processes without complications such as infection, pneumonia, and blood clots through very low-level walking (slow paced on even surfaces), exercises (usually sitting down), basic transfer training (standing up, getting in/out of bed, going from a wheelchair to/from the bed, toilet and chair), and bed mobility (rolling, scooting, and sometimes bridging).
In the home setting, patients are still trying to conquer the healing process, but they have advanced beyond the initial therapeutic exercises mentioned above.  In the home, patients face different challenges and therapy needs to be different (look different and feel different) compared to the therapy he/she received in both the hospital and inpatient rehab.  For example, in the home, they have soft, cushy recliners, couches, and often beds that are more difficult to stand up from compared to the hospital bed, the medically equipped bathroom facilities, and the chairs with armrests.  Stairs, steps, and carpet can even be challenging after a recent hospitalization.
RATIONAL BEHIND MY TREATMENT METHODS
---
---
As an experienced Home Health Physical Therapist, I have several beliefs/treatment practices (some of these beliefs were mentioned in the video) to address and improve my patient's level of independence, safety, and quality of life in the home setting.
Belief #1

:  You are only going to get good at what you practice, so you need to PRACTICE what you want or need to get better at while you have the skilled therapist available to assist with problem-solving and fall risk management.
If you are safe and functional in sitting, but lose your balance, get really tired, or stagger around during standing and walking activities, THEN therapy needs to be 90% completed in STANDING and not sitting down peddling a floor bike, kicking your legs, etc….
Belief #2

:  Everything changes once you are home!
If you were in therapy at an inpatient rehab facility and discharged home, THEN you obviously met your goals and successfully completed the initial stages of rehabilitation appropriate for either going home or continuing rehab in an outpatient rehab setting.
Therefore, therapy in the home SHOULD look, feel and be different from the therapy received in the hospital or inpatient rehab setting.  Furthermore, therapy should look, feel and be different for different goals and problems.  In other words, therapy after a total knee replacement should look, feel, and be different to therapy after a stroke, heart attack, fall with significant injury, etc…
Belief #3

:  During therapy, especially in the home, there needs to be a goal (FUNCTION-al reason for doing an exercise) behind EVERY exercise/intervention.

 
I encourage and sometimes prompt my patients to ask questions!  For example, "What FUNCTION-al goal is being addressed with riding a floor bike for 20 minutes in the home?" Experience has taught me that being able to pedal a floor bike for 20 minutes primarily promotes circulation when someone is not able to/not suppose to put weight on his/her leg and to decrease stiffness using the pedaling motion. I DO NOT believe the floor bike is an effective treatment method for strengthening because to build strength, you need the proper amount of resistance applied in a specific/appropriate position.  I personally do not ride a bike through my house and neither do my patients.  Therefore, I DO NOT have my patients PRACTICE riding a bike during therapy because riding a bike does not make walking or standing easier.
On the contrary, in the video, I explain why I have every one of my patients with balance problems and increased fall risks complete standing heel and toe raises WITHOUT holding onto a walker!  The foot and ankle are the 1st things to contact with the ground.  When walking UP a ramp, the ankle is in the "TOE UP" position of toe raises.  When walking DOWN a ramp, the ankle is in the "TOE DOWN" position of heel raises.  If my patients don't want or need to remain on a walker, THEN they need to practice all standing exercises and walking (UNDER MY SKILLED SUPERVISION AS A PT) without using a walker or holding onto something (I have not seen a kitchen countertop in the middle of a parking lot for someone to hold onto).  This goes back to my 1st Rule–You are only going to get better at what you PRACTICE!
No one enjoys wasting their time!  If you understand the "Why" behind certain exercises, then you do not feel like you're wasting your time, and you are more likely to do your home exercise program because it makes sense.  In previous videos and posts, I explain why I DO NOT use a floor bike, theraband or leg weights during home therapy treatments.  The primary reason I DO NOT use these therapy methods is: I have never observed someone walk better, stand up easier, or keep their balance because he/she can peddle a bike for 20 minutes in sitting or sit and move their legs 20 times against the resistance of a red theraband or with 5 pounds on their legs.
Remember:  These are my OPINIONS and I treat home therapy differently because I believe rehab in the home IS different from rehabilitation in the hospital or inpatient facility.
If you have any questions or would like to share your own experience with Physical Therapy, please leave a comment below.  I hope this video and post were helpful.  I am available for any questions, suggestions or comments because I am dedicated to making care in the home easier and safer!
Until Next Time,
Be Safe!
Shawna, PT, MPT